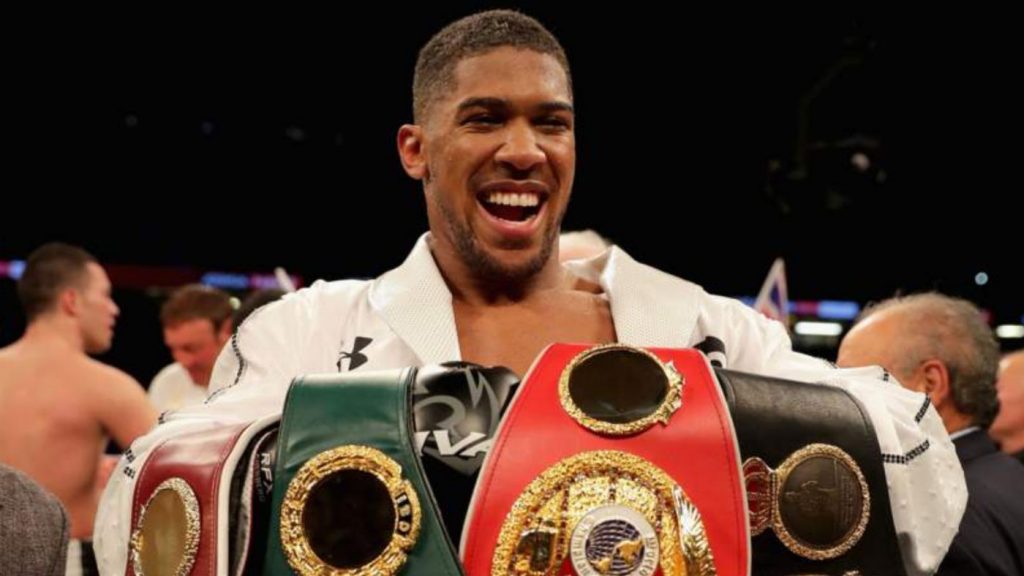 Auction of signed items from the heavyweight champion announced to raise money for charity Key4Life

StubHub, the world's largest ticket marketplace, has announced a new collaboration with boxing champion Anthony Joshua OBE, to auction the chance for fans to meet the sporting great at his weigh-in and win VIP tickets to his fight against Povetkin on Saturday 22ndSeptember.

The auction, hosted on eBay.co.uk opens on Monday 3rdSeptember at 9 a.m. and lasts for ten days. Fans will be given the chance to get their hands on replica items and pictures signed and personalized by Anthony Joshua via auction.

Fans who deliver the knockout bids will win:

A pair of VIP inner ring tickets to Anthony Joshua v Povetkin which includes the chance to meet AJ at the weigh-in
Two signed replica belts
Two sets of signed replica gloves
Two signed photo frames.

Information about the auction can be found at: www.ebay.co.uk/stubhubanthonyjoshua

Furthermore, each bidder has the chance to win two tickets to the fight which takes place at Wembley Stadium on the 22ndSeptember.

All proceeds from the auction will be donated by StubHub, the official ticketing partner of matchroom booxing in partnership with Anthony Joshua to Key4Life, a charity that focuses on reducing re-offending and gang-related crime through effective rehabilitation and preventative programmes. Joshua, inspired by his own experiences, has long-supported organisations that help disaffected and at-risk young people in the UK, and this is StubHub's second partnership with Anthony Joshua to benefit a charity close to his heart.

Anthony Joshua OBE said: "I'm really pleased that my latest collaboration with StubHub will benefit Key4Life, who do a great job mentoring people. I always love meeting my fans, so many people give up their own time to support me so it is a pleasure to meet as many as I can. I hope the auction raises lots of money and awareness for a great cause."

Wayne Grierson, Regional Manager Northern EMEA, StubHub, said: "StubHub is proud to celebrate its partnership with Anthony Joshua in a way which will give fans a unique chance to bid on personalised replica and will help a good cause. Through this eBay auction, we will help raise awareness of Key4Life and support their work with much needed funds. This auction forms part of StubHub's commitment to give back to communities across the UK."

Eva Hamilton MBE, CEO and Founder of Key4Life said: "We are really grateful to be supported by StubHub and Anthony Joshua. Anthony Joshua is a genuine sports advocate; someone whose passion for sports ignited at a young age and whose goal has always been to succeed. He stands as a great example for young people and the perfect role model for Key4Life's beneficiaries, inspiring them to unlock their talent."

About Key4Life
Founded in 2012 after the England Riots the previous year, Key4Life is the award-winning charity that aims to reduce youth offending and gang-related crime in London and the South West, through the delivery of an effective seven-step rehabilitation programme for young men (aged 18 to 25) in prison and those at risk of going to prison. Music, Horses and Sport, including boxing and football, play crucial roles in the programme for developing emotional resilience, alongside employability skills. The effectiveness of its programmes is evidenced by statistics – just 14% of those who complete a Key4Life programme reoffend, four times less than the national average of 61%. Moreover,a Key4Life participant is four times more likely to be employed a year after their release, with 64% of Key4Life participants in sustained employment versus the national average of 15%. www.key4life.org.uk
Please follow and like us: